The transition from primary school to high school can be a daunting prospect but we have a well-established programme to help young children adapt to the change. We wanted to reassure all our families of year 6 students that are joining us in September that they haven't been forgotten.
On this page you will find all of our transition information and guidance.
Our welcome booklet provides parents with all the useful information and guidance they will need for their child to join us at NHTS.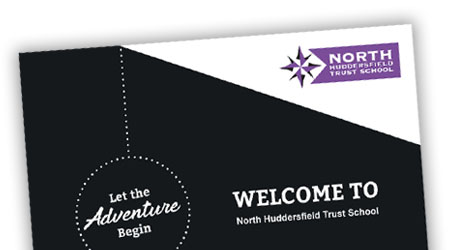 The Diary of a Year 7 student booklet was written and illustrated by our students, giving a real-life insight to life at our school.
Do you have a query about transitioning to NHTS?
Submit the form below and we'll be in touch.
Dear Year 6 Me by Tia
When I was starting high school, I was a little nervous but I was also excited when I found my friends would be with me, however, as it turns out we ended up in different forms.
I found a group of people that I trusted, including my best friend. As the days go by things change and you start to settle in to high school.
Another way of making friends is by attending school clubs, there are a lot of clubs that might get your attention.
The moral of the story is; focus on your work and make real friends.
p.s. transition is always fun so ENJOY it
Dear Year 6 Me by Urooj
When I was going to year 7 I was nervous and scared because I thought I would not make friends and I was going to be bullied. It turned out to be good and I have made lots of friends. I have one friend in particular who has my back, she is in my form and she is so nice to me and she makes me laugh.
I have gained lots of confidence when it comes to teachers asking questions in class and I have learnt to believe in myself. Don't be afraid of anything as there are lovely teachers and pupils at North Huddersfield Trust School that will help you with anything. 
Dear Year 6 Me by Abdur-Raheen
What I like about high school is my friends because they're always there for me.
My favourite lesson is P.E as I get to enjoy my favourite sports; football and basketball. I also enjoy History because we have the nicest teacher and I like to learn about ancient times. English is fun because we learn about real stuff like the refugee book. I find Maths lessons very engaging and have found I am particularly good at this. Art is fun; I like to make good compositions and enjoy drawing and colouring.
At break time I like to eat pancakes as they are so nice as well as spending time with my friends until it's time for the next lesson. 
Dear Year 6 Me by Hasibah
I am writing to inform you that high school is the place that you need to be in because you make friends on the first day and you have the best day ever and when you go home you really want to come back.
Dear Year 6 Me by Joni
I would say high school is just a walk in the park, because isn't that what we would all like to think? But I would be lying, it's more like a roller coaster. There are sometimes highs and lows and I understand that you are scared but I'm writing to tell you there is absolutely nothing to be scared about. Most people are nice and welcoming and the ones who aren't are hard to come across.
Finding your way around isn't that tricky, it's just remembering what's where.
If you're worrying about being lonely you can forget that idea! You will find amazing friends and have the best time.
You have no need to try and fit in, just be yourself and your friends will come to you. If you respect everyone, they will all show respect to you.
All teachers will look after you and listen to what you have to say. There is never any need to worry.
There are rules and consequences just like there was in primary so think before you do things.
Don't worry about getting lost and being late, think positively about your transition to high school as it's going to be fine.
Dear Year 6 Me by Oliwia
I have learned many things throughout year 7, some of which were less interesting than others.
Some of the lessons that I found more interesting are: English, History and Geography. The English lessons in high school are more enjoyable than in primary school and the books we learn about are more enjoyable and interesting.
On the first day I was scared about everything. I wasn't sure if I was going to find any friends but now, I know, there was really nothing to be afraid of. I love all my friends and I don't know what I would do without them – I could never, ever, ever wish for better friends!
On the first day of school I got lost a few times but now that I have settled into school it is easy to find my way around.
I really enjoy high school!
Dear Year 6 Me by Miya
Going to high school was a pretty BIG step in my life; I still had so many questions running through my mind, like: How will I get to my classes? What if I got lost and then got into trouble? How will homework work? But when I got there it wasn't as bad as I thought it would be. I enjoyed it!
I have met so many nice new people and I enjoy the classes as well. I have learnt so many new things during my first year at NHTS and I really enjoy it. 
Over time, I eventually got to classes on my own and I started asking for a little more help because I started feeling more comfortable around the teachers and other students.
There is so much to do here! There are many different clubs to do after school, such as: Homework Club, Badminton Club, Netball Club, Drama Club, etc.
The thing that I worried about the most was bullying but NHTS take bullying really seriously, like every school should. There are so many staff members to talk to and you shouldn't just hide it. If you don't tell someone your problems, no one can help you. Bullying should be the last thing on your mind. 
The school can give you amazing opportunities to go on trips to places like: Flamingo land, Tag X and the zoo, etc. 
All the staff members will make your experience at North Huddersfield Trust School the best it could possibly be!  
Dear Year 6 Me by Jamaal
When I was coming to year 7 I was a bit nervous because we were used to having one teacher but in high school you have to move around. I was worried that if I got lost what would I do but the students and teachers are very kind and helped me find my way.
During year 7 we had an opportunity to go on the end of year trip so I did, along with many others and we had the best time!
Throughout Year 7 I have become a lot more confident in Maths. I have also learned how to pay for things because in high school the teachers do not serve your food to you, you have to get what you want from the counter and pay for it yourself at the till, which teaches you how to handle money. 
In high school we have to be organised and remember to bring our own pens and pencils and books. 
Dear Year 6 Me by Kaitlyn
High school is really fun, at first it can be scary but when you get used to it, it is fantastic and you will love it, there is nothing to be afraid of! If you have any worries the teachers will be there for you and other people around you will be there.
At first the school may look big but once you get used to it, it is not that big at all. The lessons are really fun, enjoyable and very interesting.
Questions, such as, 'Will I get into trouble?' get asked a lot, the answer is: no, you will not get told off if you are good and well behaved.
Another question is 'Will I get into trouble if I don't finish my work?', if you complete the work you will be fine but if you don't understand the work all you have to do is ask the teacher for help rather than waiting until the end of the lesson or struggling.
Dear Year 6 Me by Liabah
When you first come to this school, you might think that it is really scary but it is really nice as everyone here is kind so don't worry. It is a good place, everyone here is very welcoming so there is no reason to be scared.
There is more homework than primary school but it helps you and it is interesting. There are more lessons, such as, Drama, Resistant Materials, Food Tech and many more which can really help you. We also have cool clubs that are for anyone so you can meet more lovely people and make friends. 
Even though you may have a different timetable to your friends, it will be ok as you will get to see them at lunch and break.
The other thing that would be different is that you don't have all your lessons in one room you will have to go to different classes but eventually you will get used to it and if you get lost you will have one of us nice people to escort you to your class so there really is no reason to be scared or worried about moving to high school.
Dear Year 6 Me by Nethmi
I am writing this letter to answer my questions about high school and to tell about all I've learned.
When in year 6 I didn't have many questions about high school, one of my main questions I had was 'will the school have interesting things to learn about?' – I've since found out the answer to my question is yes!
The main difference between high school and primary school is that there is more to learn and you have to take responsibility more often.
I have enjoyed Year 7 at North Huddersfield Trust School.  
It's true that school work will be tough in high school and I am willing to show my best efforts in studies as I've always wanted to do since I was young.
It's nice to have new friends at school and I am very glad to be here!
Dear Year 6 Me by Qais
Looking back at primary school compared to Year 7, it's entirely new and it's different because you are more independent.
It is not just all lessons in one room compared to junior school where you have all lessons inside of one class except PE, maybe music or drama. 
It is understandable that you might be worried about bullying or making friends but, honestly, I was thinking the same before and now that I have started high school, I feel like I have made a decent number of new friends and I have not experienced any form of bullying. 
There is one last thing I must tell you, always remember your equipment and PE/swimming kit when needed and make sure you look after them properly so you do not lose them.
Dear Year 6 Me by Jamie
When I was due to start High School in September I was a bit worried and wondered what it would be like. I was worried about how much homework there would be and what food there will be to eat at lunch, but when you get to the school you will find out a lot more and it's a shorter day with 30 minutes for lunchtime. 
 All of the teachers are very nice and if you are lost a teacher or student can help you find your way to the class. 
 If anybody is bullying you make sure to tell an adult and they will be spoken to about the incident.
 It hasn't been as bad as I thought and these are some of the questions I had so hopefully they will ease any worries you may have:
 How many teachers do you have? 
You will have about 7/8 teachers. 
 What sort of things is there to eat?  
Panini, pizza, salad and burgers. 
 When do you get to see your friends? 
At lunch and break time for 15 to 30 minutes   
 How will I make friends? 
You can make friends by talking to different people and being kind. 
Dear Year 6 Me by Habteab
At North Huddersfield Trust School you will get confused going to every class for the first 2/3 weeks but if you are lost you can ask anyone, teachers and students and they will help you find your way.
In P.E you will learn about badminton, football, swimming, netball, basketball and gymnastics.
After school there are some clubs if you are interested, they are a great way of meeting new people and making friends.  
Dear Year 6 Me by Maryam
I have been at North Huddersfield Trust School for 8 months now and can say that I think I have settled in really well.
At first, I was scared thinking that I would get bullied by other students, the only reason I thought this was because I have watched a lot of movies and some of them showed people getting bullied mostly in high school, but I can say that I have not experienced anything like this at all!
I was also worried that I would get lost in school because, let me tell you now, when I first came to high school it was humongous! Now it just feels like it is a normal school and that I have been here for about 2 years. I feel like the teachers are really kind.
Anyways those were mostly my worries when I came to NHTS, I actually enjoy coming to school and enjoy lessons.
I have been to one end of year trip because I have been here 8 months and really enjoyed it, I went to Blackpool. The trips at NHTS are amazing!!!!!
I would definitely recommend North Huddersfield Trust School to anybody. In my opinion it is ONE OF THE BEST HIGH SCHOOLS EVER! (Did I forget to mention everyone here is really caring?) 
Dear Year 6 Me by Surya
High school is nothing you think it will be, most of it is exactly the opposite. I know that moving to another country and going to a school that has a completely different curriculum is hard and even though there are so many things that are happening right now, you can deal with it!
I've only gone to this school for a week because of the pandemic that has been a real life changer (I'm pretty sure it has been for everyone in the whole world) so I don't really know what it's like to be in school with a British curriculum, but this is what I've learned in the week I have been here…. the first few days are going to be a bit weird but you'll gradually get used to it; you can bring lunch from home or have a school lunch (either one is good).You have to pay for your lunch with a finger scanner that reads your fingerprint and then it cuts out using cash.
The school is a big building so familiarising yourself with where the classes are is very important.
For swimming, we have a big pool. We also have gym class, but I haven't had that yet so I can't really say what it's like. We study Maths, English, Science, P.E, History, Personal and Social, IT, Spanish, Music, Geography, Religious Philosophy and an extra class.
After you start getting used to it, it'll kind of become a routine for you, but trust me, school's going to get easier to handle. Your first year of high school will be really interesting and enjoyable.
Dear Year 6 Me by Shania
Going into high school is difficult at first but try not frighten yourself too much because once you're like 2 weeks in, you will soon start to feel like you belong here.
At first, getting around is hard as you don't know where everything is but don't worry, if you get lost just explain to your teacher you had trouble finding the lesson and they should understand as you're new at the school.
It's important to try be nice to everyone as your friends might not be in the same sets as you!
A good tip to stay organised is…. the night before school look at your time table and try to work out where the lessons are make sure you put all your equipment in your bag even if you feel like you won't need it, bring it in case you do and that way you won't get in trouble for not having your equipment. Try take pride in your work as that's what teachers like and try to stay on top of your homework.
Dear Year 6 Me by Krysztian
Welcome to high school, or shall I say, the best years of your life! The teachers are nice and kind and you should give respect to them as they only want you to do well.
I was nervous of moving up to high school because I was scared going from top dog in the highest year to the youngest in a big school but everything has been fine and the teachers and students are really welcoming.
You will get home work a lot but you can get it on a computer. You guys will get an early lunch for the first 3 to 4 weeks of your first year at the greatest school.
Dear Year 6 Me by Ioana