Covid – Advice for Parents
Welcome from the Headteacher
On behalf of governors, Trust partners, staff and students, I would like to welcome you to North Huddersfield Trust School.  I am proud to be Headteacher of a successful learning community where the academic, pastoral and social needs of students are the priorities. 
We value relationships between staff and students as being integral in cultivating an environment that both supports development and provides the challenge to continually improve.  This is built on the values of trust and respect where the needs of every individual are understood and catered for, alongside having clear expectations for excellence in attitude, behaviour and commitment to learning.  Our PRIDE agenda underpins our ethos and the expectations for all students and staff; please click here for more details.
We strive to provide an experience of school driven by positive engagement with learning, whether this is in the classroom, on a corridor, in a social space or during a trip, visit or activity.  This richness of opportunity is designed not only for academic success but to develop the skills needed to become team players, role models and leaders.  Our students are the people who will shape the future; our commitment is to delivering a quality of education that makes this happen.
If students leave with confidence, the ability to make decisions, the hunger to question and to understand and the motivation to constantly improve then we have fulfilled our purpose.  Education is about aspirations and we hold the highest aspiration for all our students.
Please take the time to look at the information on our website.  Should you have any questions, do not hesitate to contact me or the relevant member of staff.
Andrew Fell
Headteacher
Uniform Exchange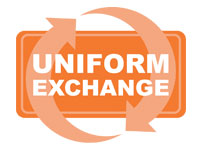 The Uniform Exchange provides free school uniform to any child who needs extra support and encourages children and families to think of others and the environment.